Our Skilled Dentists Offer Quality Care
Skilled Dentists Providing State-of-the-Art Care
Outstanding oral health and a beautiful smile can give you confidence and help you experience better overall health.
The advanced treatments provided at Tampa Dental Wellness, with offices in Westchase and Carrollwood, FL, can give your entire family something to smile about.
Why should I choose Tampa Dental Wellness?
I'm so glad I found Dental Wellness of Westchase. The office is clean and comfortable. The office staff, hygienists and doctors are all so nice, professional and helpful. They do a great job at explaining everything they are doing. I highly recommend this dental office your dental needs.
View On Google
I had been going to the same dentist my entire life in my hometown before moving to Tampa. I was a little nervous about finding a new dentist, but I really lucked up finding Dental Wellness of Westchase. They make you feel welcome, are very friendly, and do great work. I highly recommend!
View On Facebook
Dr. Creech-Gionis has served Carrollwood, Westchase, and greater Tampa, FL, for over two decades. She and her team offer comprehensive care for the whole family under one roof.
You can take advantage of relaxing care in a spa-like atmosphere, and sedation is available to make your visits even more comfortable.
To schedule a consultation at Tampa Dental Wellness, call us today at (813) 855-2273 or reach out online.
Our dentists focus on providing your family with the most modern and comprehensive dentistry services at our locations serving Westchase, Carrollwood, and greater Tampa, FL. Dr. Amy Creech-Gionis and our associates have a commitment to our community that has helped us develop relationships for more than 24 years.
Our dentists incorporate the most effective techniques and procedures into your care. We also use the most advanced technology in dentistry to help improve the diagnosis and treatment of any oral condition. In addition to restorative procedures, we also offer cosmetic dentistry services to keep your smile looking beautiful. With options like crowns, bridges, porcelain veneers, dental implants, and much more, you and your family are sure to find the services you need at Tampa Dental Wellness, with offices in Carrollwood and Westchase.
Cosmetic
Restorative
Bone grafting
Implant-supported dentures
White fillings
Crowns
Bridges
General
Sealants
Root canal therapy
Soft tissue grafting
Oral cancer screening
If you are in need of a new dentist office or even if you're not you should consider this place. They are super friendly and knowledgeable. Dr. Leal was super great and informative. The ladies who helped me get set up and took x-rays were also great. They walked me through every step and I never once felt uncomfortable. Would recommend this place to anyone.

View On Yelp
Everytime we go to Tampa Dental Wellness, the hygienists and Dentists are so kind, patient and gentle. They take the time to really explain what they are doing and why. The hygienist actually got my 8-year old to understand why flossing every day is important! She was amazing. Highly recommend them for adults and kids!
View On Yelp
Why Consider Dental Implants?

The Gold Standard for Tooth Replacement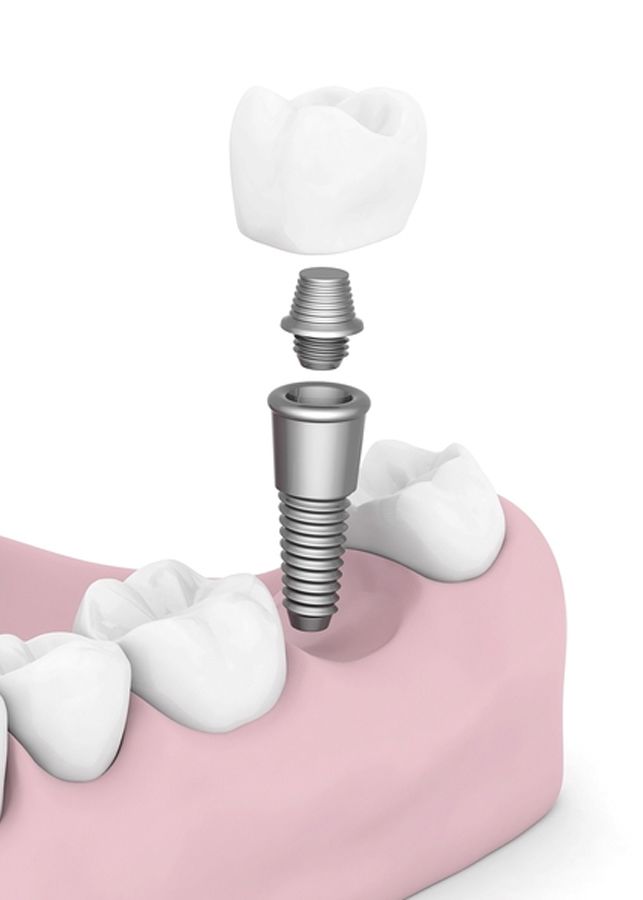 Dr. Creech-Gionis and her team provide implants as a reliable and permanent solution to tooth loss. These titanium posts serve as artificial tooth roots, supporting restorations like crowns and dentures to fill the gaps left by damaged or missing teeth. While the restorations will need to be eventually replaced, implants can last for decades or even a lifetime with proper care.
At Tampa Dental Wellness, we are involved in your dentistry treatment from start to finish. Using 3-D CVTC technology, we can accurately examine your jawbone and evaluate the best position for implants. With this information, we can create a custom surgical guide to perform your surgery and ensure the best degree of accuracy possible. If necessary, we can also perform preparatory procedures such as bone grafting or a sinus lift to restore your eligibility for implants.
Understanding Cost
Because every implant patient is different, the cost of treatment will depend on your specific needs. In addition to the baseline cost, Dr. Creech-Gionis must also consider the number of teeth to be replaced, the restoration needed, and any preparatory procedures. During the initial dentistry consultation, she can evaluate your oral health before providing you with a cost estimate.
It's important to understand that implants are an investment in your long-term oral health. An implant not only fixes the immediate problem of missing teeth, but can also prevent bone atrophy in the jaw. As a result, it can prevent future oral health problems and potentially save you thousands of dollars in treatment.
Our dentists also take steps to make treatment as affordable as possible. Our offices in Carrollwood and Westchase accept CareCredit and offer in-office savings plans, as well as a platinum wellness savings plan. If you are concerned about cost, we can explain these options to determine the one that is the very best fit for your budget.
Take the Next Step:
Contact Us to Improve Your Smile
Whether you are new to the area, in need of a dentist for regular checkups, or wanting to upgrade your smile with a state-of-the-art cosmtic dentistry treatment, our practice is here to meet your needs as well as those of your loved ones. During your appointment, we will listen to your concerns and develop a treatment approach to help you achieve the smile that you envision.
Call us today at (813) 855-2273 or contact us online to schedule an appointment at Tampa Dental Wellness in Carrollwood or Westchase.
"Her technology made my treatment so much easier and just faster in general. The sedation made for an even less stressful trip to her office. I'll always come back to Dr. Creech!"

Amelia Q.
We provide comprehensive dentistry treatments at our two locations in Tampa, FL. With extensive training, experience, and a commitment to advanced continuing education, our dentists are able to provide everything from a filling to a dental implant. We also offer multiple sedation options to any patient who may feel apprehensive or nervous about their care. Our goal is to remove all obstacles to quality care and provide as many procedures as possible.
We have established a spa-like dentistry atmosphere at our Carrollwood and Westchase locations so that everyone can experience comfort and relaxation. The modern yet welcoming feel of the office is calm, clean, and comfortable, and feels more like a home than a dentist's office. Our staff is also extremely helpful, coordinating each appointment and helping you navigate our wide variety of payment and financing plans.
Gentle, Safe Sedation for Your Comfort
Our doctors offer a variety of sedation options to help you relax while you undergo any treatment. By using sedation, you can overcome anxiety and receive the vital treatment you need. From a routine cleaning to dental implant placement, you can remain calm and comfortable through every visit thanks to this option. Dr. Creech-Gionis is also certified to administer intravenous (IV) sedation, which helps patients achieve a state of deep relaxation without losing consciousness. Under the care of our practice serving greater Tampa, FL, you can experience stress-free treatment from a caring, compassionate team.
The worst part about moving to a new city is typically finding new health care providers. I first went to Dental Wellness of Westchase based on a coworker's recommendation - and what a fantastic recommendation that turned out to be! I've since been to this office for four or five regular cleanings/xrays and a filling.

Cara Kliefoth Banks
Are you on the search for a dentist who cares about your smile as much as you do? Search no further than Tampa Dental Wellness. We can enhance your smile with cosmetic, general, and restorative dentistry treatment tailored specifically to your goals. Our practice is passionate about helping each and every patient achieve and maintain a smile that is gorgeous and healthy. We would love to be your entire family's source for state-of-the-art dentistry.
Contact us online or call us at (813) 855-2273 to schedule dental care with one of our highly skilled dentists at our Carrollwood or Westchase locations.
How Often Should I
Schedule Dental Appointments?
The American Dental Association recommends that you work with your dentist to determine how often exams and cleanings should be scheduled. Typically, we recommend exams and cleanings every six months. However, some people have a higher risk of developing dental problems such as tooth decay and gum disease. High-risk individuals who may require more frequent dental visits include:
Smokers
Individuals with disabilities
Diabetics
Individuals who are genetically more prone to plaque build-up, gum disease, or other dental problems
Patients with gum disease
Pregnant women, who can be more susceptible to gum disease
During your appointment, we will examine your teeth and gums and discuss your medical health history to determine how often exams and cleanings should be scheduled. If you need more frequent checkups, our staff is here to help make these appointments a comfortable and convenient fit for your busy schedule.
Top Four Benefits of Dental Care and Good Oral Hygiene
There are so many reasons to undergo routine dental exams and maintain the health and appearance of your smile. Here are some of the top reasons why dental care is so important:


1. The Oral Health and Overall Health Connection
Studies have shown that poor oral health, particularly gum disease, can increase the risk of serious medical conditions. This includes heart disease, clogged arteries, stroke, premature birth, low birth weights, endocarditis, and pneumonia.
2. Reduce the Risk of Dental Problems
Good oral hygiene and routine exams reduce the risk of cavities, gum disease, and root canal infection. This prevents the need for dental treatments to restore the teeth and gums, saving you time and money in the long run.
3. Prevent Further Dental Damage
If dental problems develop, biannual dental exams allow us to detect problems when they are in their early stages. This prevents further damage and allows for more conservative treatment such as a filling rather than root canal therapy.
4. Fresh Breath and a Beautiful Smile
Brushing twice a day, flossing daily, and attending dental exams on schedule can help you maintain fresh breath. In addition, because plaque is removed from the teeth, you can prevent stains and discoloration from developing.
Book an Appointment
Save time in your busy schedule and book an appointment online.